Weekly Appointment Planners - AT-A-GLANCE
Weekly appointment planners are for all kinds of busy schedules
Now it's easy to see what your week entails, whether you use weekly appointment planners for personal, business or academic needs. The convenient two-page format makes viewing each week a breeze so with a quick glance, you can see what's in store for you. Choose from a great variety of planners to make sure you get exactly what you need for your busy schedule!


Smart planning with weekly appointment planners - Plan your life however you want it with weekly planners that make it easy to get and stay organized.... read more


This catalog is currently out of stock.


Please search through our categories for another catalog.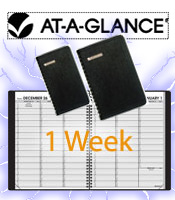 More About Weekly Appointment Planners - AT-A-GLANCE:
Other great AT-A-GLANCE ® departments:
Whether you're a meticulous detail keeper or you need all the help you can get to stay on task, these scheduling tools can help anyone keep up with important dates, events and special occasions. Take a quick look at your planner at the beginning of the week so that you're never surprised! If you have extra pockets of time, fill them in as needed, but with such great tracking of your weeks, you won't be caught off guard when something comes up, as it invariably will.


Various sizes for various needs - Choose the size you need, from pocket to large. Weekly appointment planners are available in many different varieties, including weekly academic appointment books, professional appointment books, academic self-management systems, open scheduling planners, unruled pocket planners, teacher planners, pocket diaries and much more! These planners are perfect for anyone who leads a busy life. Are you a corporate executive, administrative assistant, student, professor, teacher, tutor, mom, coach, dad? Well then, these planners are for you!
Using weekly appointment planners is a smart way to stay on top of all those important dates in your life, no matter what your profession or lifestyle. With so many unique choices, anyone can find the right planner to help them get and stay on track of all their events.