Catalogs.com Departments

News & Articles

Cold Weather Socks – Snow Shack
Protect your feet from wintry air with cold weather socks
You are ready to step out into the brisky outdoors when your feet are protected in cold weather socks. Keep your toes warm with socks specifically designed to take on the coldest weather without sacrificing style and comfort.


If you're looking for cold weather socks to keep your feet comfortable for hours out on the slopes, then consider high performance ski socks.... read more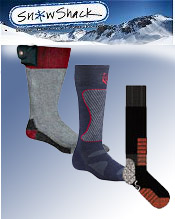 More About Cold Weather Socks – Snow Shack:
Other great Snow Shack departments:
These socks come with medium cushioning to provide extra comfort, a 4-degree banded fit system for all day performance, and strategic mesh zones for ventilation.


When selecting cold weather socks that keep your feet toasty even on the coldest of days, then try a pair that rates fairly high on a warmth scale. Some socks rate a 6 out of 10; while other socks rate a "hot" 10 out of 10 on the warmth scale.
You don't have to sacrifice comfort for warmth when selecting cold weather socks that are right for you. Keep your feet odor-free with fibers specifically designed to inhibit the growth of odor-causing bacteria. Also consider active wear socks that provide the warmth you need in a thinner sock.
Cold weather socks are ideal to keep your feet warm, protected and comfortable on a chilly day. Browse from a selection of socks that are designed for your specific needs, whether you want to tackle the slopes or just keep your feet warm and dry on a cold day.