Catalogs.com Departments

News & Articles

Gloves for Kids – Snow Shack
Keep little hands warm on chilly days with gloves for kids
Keep little fingers toasty on cold days with gloves for kids. Don't let your children leave the house without a pair of gloves that will keep their hands warm, dry and protected against the harsh elements.


Browse through a large selection of gloves for kids where you will find the perfect pair of gloves that's right for your loved one.... read more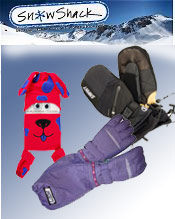 More About Gloves for Kids – Snow Shack:
Other great Snow Shack departments:
Choose from a variety of gloves including those with Thinsulate thermal insulation to keep fingers dry and warm; over-the-elbow gloves that stay in place even for busy ones; or a pair with side zippers to hold heat packets.


If you think little fingers stay warmer when snuggled together, try a pair of mittens. Like gloves for kids, mittens are not only warm, but functional as well. Your child can keep valuables such as keys, lunch money and important phone numbers in mittens with discreet pockets.
Gloves for kids and mittens come in a variety of styles, colors and sizes for kids ages 1-15 years old. Your children's hands will stay protected from the cold in gloves that are made specifically for playing in the snow, skiing down the slopes or simply walking from the bus stop.
Gloves for kids keep little fingers warm on the chilliest of days. Select from an assortment of gloves and mittens for toddlers, school aged children and teens that allow them to enjoy the snow without having to worry about frosty fingers.