Catalogs.com Departments

News & Articles

Kids Ski Equipment – Snow Shack
Have fun on the slopes with kids ski equipment
Mastering a new skill is much easier when it's learned as a child. When introducing the basics of this sport to beginners, use the best kids ski equipment. Wearing proper ski gear ensures that your child is ready to learn, stay in control and have fun while on the slopes.


Once children can balance upright on skis, it is a good time to teach them how to turn.... read more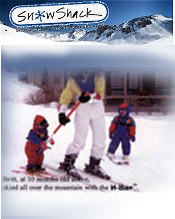 More About Kids Ski Equipment – Snow Shack:
Other great Snow Shack departments:
Use the Ski Leash to help little skiers make left and right turns and learn to control speed effortlessly. With a little practice and the help of kids ski equipment, children will be able to ski on their own.


Keep the glare of the sun away from children's eyes with ski and snowboarding goggles made especially for them. Tinted lenses provide protection against the sun's harmful UV rays and offer superior vision for children. Goggles are also compatible with helmets.
Your kids ski equipment should also include a helmet to protect your child from falls, bumps and bruises. Helmets come in a variety of styles and features including removable interior padding, in form adjustable fit systems and strategically placed vents for air circulation.
Provide the best kids ski equipment for your children to ensure that they are protected, prepared and ready to have fun on the slopes. From head to toe, the right ski equipment means everything for an awesome time in the snow.