Catalogs.com Departments

News & Articles

Menís Fleece Jackets Ė Snow Shack
Stay warm while looking cool in menís fleece jackets
Feel confident while on the slopes with menís fleece jackets that provide just the right amount of warmth needed to battle sub-degree temperatures without the added weight and bulk that are typical of more traditional outdoor jackets.



Depending upon the elements outside, you can select from a variety of menís fleece jackets to keep you protected in the harshest of weather.... read more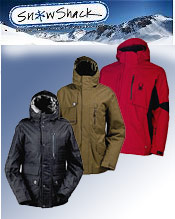 More About Menís Fleece Jackets Ė Snow Shack:
Other great Snow Shack departments:
To battle brisk winds, try a fleece that comes with a nylon overlay and a full-zipped hood.


For those who look for a little more versatility in menís fleece jackets, try hooded, full-zipped micro-fleece jackets that come equipped with multiple pockets to store your keys, cash or extra pair of gloves. They also come in bold colors that look great with jeans, snow pants and even slacks.
Menís fleece jackets are not only functional, but also stylish to wear. These fleece jackets keep up with your active lifestyle and look great on the slopes or in town. Depending upon your needs, select from jackets with Lycra at the cuffs, accent piping, zippered pockets and internal draw cords at the hem to keep out the air.
Stay warm in menís fleece jackets that are functional, durable and oh so cool. Fleece provides extra warmth, flexibility and comfort without unnecessary bulk and weight. Great for cold evenings around town or the blistery slopes, menís fleece jackets look good anywhere.