Catalogs.com Departments

News & Articles

Women's Ski Clothing – Snow Shack
Look great and enjoy the winter season in stylish women's ski clothing
To perform your best out on the slopes, gear up in the latest fashions in women's ski clothing. Whether you are an avid skier eager to take on the challenge of the black diamond or you prefer to improve your skills on the bunny slopes, dress appropriately. Stay warm, keep your body protected and look good in ski clothing that's made specifically for the female skier.... read more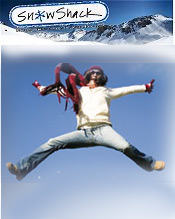 More About Women's Ski Clothing – Snow Shack:
Other great Snow Shack departments:
Keep your legs warm and dry in ski pants that are designed for the female snowboarder or skier. You'll be able to maneuver freely and stay in control in ski pants that move with you. Women's ski clothing includes fully insulated ski pants that feature detachable suspenders, 4-sip pockets, kick patches and boot clips to hold your pants in place.



Soaring down the slopes is an exhilarating experience for skiers, but the snow and wind can be harsh. Keep your face and neck protected from the elements with headgear. Now, you can glide down the mountain without your head feeling cold and damp. Women's ski clothing is designed to keep you warm and dry so you can ski your best.



A sweater fleece can be worn while taking care of errands on a chilly day, enjoying a social with friends on a brisk evening or skiing down the slopes. Made from a fine wool blend, these sweaters are light enough to layer under clothes but warm enough to wear as an outer layer on milder days. Women's ski clothing is versatile.
Look your best in women's ski clothing and see what a difference quality clothes make in your athletic performance.