Asian Prom Theme - Prom Wishes
An Asian prom theme is exotic and fun
Prom guests will have the experience of their lives with an Asian prom theme where East meets West...and has a fabulous time.


It's easy to have an Asian prom theme with all the decor, favors and accessories from Prom Wishes. Start with invitations that invite guests to a night in the Orient. Delicate and elegant invites add to the Asian theme and once prom goers arrive, they'll be treated to a huge variety of prom decor like Chinese paper lanterns glowing softly, hanging dragons, classic Oriental fans and unique centerpieces with Far East flavor.... read more


This catalog is currently out of stock.


Please search through our categories for another catalog.


- or -

Shop for asian prom theme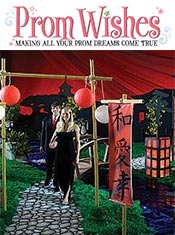 More About Asian Prom Theme - Prom Wishes:
Other great Prom Wishes departments:
Decorate tables with mini takeout boxes, Asian-inspired candles and tiny fans, but don't forget Asian prom theme ideas like wall murals and bamboo patterned gossamer. Prom guests will feel like they've traveled to the other side of the world with the unique Asian decor you'll find here. It's easy to turn any location into a delightful Eastern experience.
An Asian prom theme is a glamorous way to celebrate this special night! Guests will feel like they've taken a trip to exotic ports near and far without having to leave their hometown.