Catalogs.com Departments

News & Articles

Character Costume Ideas - Pinatas.com
Character costume ideas are great for any dress-up occasion
Think you have to wait for Halloween before getting decked out in cool costumes? Think again! When you see the character costume ideas available at Pinatas.com, you may want to play dress up every day of the year. From kids costumes to adult costumes, you'll find just what you need to become your favorite characters, whether from the movies, TV or pop culture.... read more


This catalog is currently out of stock.


Please search through our categories for another catalog.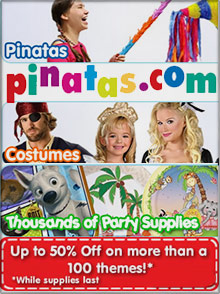 More About Character Costume Ideas - Pinatas.com:
Other great Pinatas.com departments:
Tons of cool character costume ideas - If there's a character out there who you've always wanted to dress up as, you'll probably find it here. There's a huge variety of costumes for all ages, for men and for women. From retro characters to characters who are straight from the future, you'll love these realistic and fun costumes and believable accessories. Playing dress up was never so much fun!



Fun for kids - What does the little boy or little girl in your life want to be? Kids character costume ideas include Alice in Wonderland, Justice League, Addams Family, Indiana Jones, Aladdin, Backyardigans, High School Musical, Barbie, Disney princesses, Batman, Curious George, Barney, Ben 10, Blues Clues, butterfly, Dora the Explorer, Superman, Little Mermaid, Elmo, Flintstones, Harry Potter, Wizard of Oz, Thomas the Tank Engine, Shrek, Star Wars, Peter Pan, Hannah Montana and more!



And fun for adults! - Don't worry, grownups. You'll find a huge selection of character costume ideas for yourself as well. Look into becoming any of these incredible characters: Beetlejuice, Star Trek crew, Elvis Presley, Incredible Hulk, Spiderman, Speed Racer and many more! These costumes range from fun and flirty to absolutely scary.


With so many costumes to choose from, you may have trouble selecting just one. Don't wait for Halloween if you don't want to. Dressing up is fun for anytime, whether you're a kid or kid at heart!