Catalogs.com Departments

News & Articles

Cool Return Address Labels - Current
Cool return address labels are fun and unique
Instead of writing your return address on every bill, letter and card you send, try cool return address labels, which are easy to stick on and great for showing off your personal style.


When you really want to make a statement, cool return address labels will do just that. With such a huge and exciting variety, you're sure to find the right labels that express the real you! Choose from labels featuring candy canes, initials, cherubs, kittens, tree frogs, Christmas themes, dolphins, horses, angels, roses, sunflowers and much, much more!



Make addressing large batches of envelopes easier and quicker, as well as more fun.... read more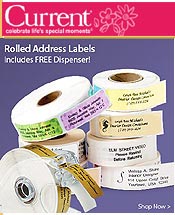 More About Cool Return Address Labels - Current:
Cool return address labels come on sheets or on rolls, as well as in a ton of different and vibrant colors! You can also add the perfect personalization with your own photos. These address labels will add your unique stamp every time you stick them on and send them off.

Current carries a wonderful selection of cool return address labels, featuring just about any theme, color or design you can imagine!