Catalogs.com Departments

News & Articles

Creative Photo Cards - CardsDirect
Creative photo cards add a personal touch
Why send the same old cards that anyone can pick up when you have a huge selection of creative photo cards that add just the personal touch you want when sending greetings.


Imagine your friends' and families' faces when they open a card from you and see your smiling face peering up at them! Better yet, give grandparents even more bragging rights with creative photo cards featuring their precious grandkids.... read more


This catalog is currently out of stock.


Please search through our categories for another catalog.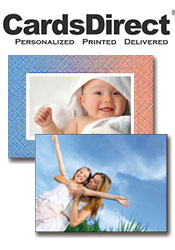 More About Creative Photo Cards - CardsDirect:
Other great CardsDirect departments:
Personalized photo cards make any greeting even more special by putting your personal stamp on it.


Forget those old holiday letters! Now you can send creative photo cards for festive times of the year. Borders include snowflakes, pine cones and stars, but you can also choose anytime borders like whimsical polka dots, elegant filigree or maple leaves, among so many more! Picture cards work for anytime of the year, whether you send photos of yourself, the kids or even cherished pets.
Let CardsDirect supply you with an endless variety of creative photo cards that add your personality and uniqueness to every greeting!