Catalogs.com Departments

News & Articles

Graduate Party Supplies - Century Novelty
Graduate party supplies help celebrate a special occasion
If you're planning to throw a commencement bash that no one will forget, then you need the right graduate party supplies. Century Novelty has a great selection of supplies and accessories that any graduating class will absolutely love!


What do you need for a perfect graduation party? Favors, colorful decorations, banners, pennants, garlands, gift bags, novelties and tons of cool accessories! So get them all right here.... read more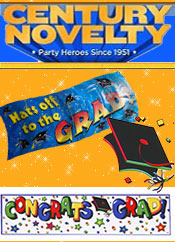 More About Graduate Party Supplies - Century Novelty:
Graduate party supplies include fun favors like rubber duckies, glow in the dark glasses, pens, bubbles, key chains, autograph bears, antenna balls, picture frames, bracelets and so much more! Every party goer will leave happy and with memories of a fantastic celebration.


You don't want to leave your guests hungry, which is why graduate party supplies also include beautiful tableware like serving plates shaped like grad caps, plastic cups, plates featuring "class of", table covers, napkins and different color centerpieces. Serve snacks and cakes or something more elaborate -- these dinnerware pieces will be loved by all of the happy grads!
If you need graduate party supplies, look no further. You'll find exactly all the supplies and accessories you need to throw the biggest and best commencement celebration ever!