Catalogs.com Departments

News & Articles

Holiday Themed Parties - Pinatas.com
Holiday themed parties are fun all year long
If you're ready to throw a fun-filled bash, holiday themed parties make sure you have a great time all year long. Celebrate any holiday however you want! Pinatas.com carries a great selection of holiday party supplies that will help you have a blast, no matter what the occasion.


Throw fun holiday themed parties - What holiday do you want to celebrate? You'll find supplies for any holiday you can imagine, including Valentine's Day, St.... read more


This catalog is currently out of stock.


Please search through our categories for another catalog.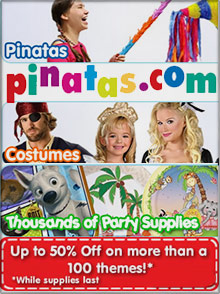 More About Holiday Themed Parties - Pinatas.com:
Other great Pinatas.com departments:
Patrick's Day, Mardi Gras, Easter, Cinco de Mayo, Fourth of July, Halloween, Thanksgiving, Christmas, Hanukkah and New Year's Eve. From major holidays where you get a day off of work to smaller ones that are still worthy of celebration, you can have fun any holiday.


Any party supplies you need - What makes a great party? The right supplies and decorations, of course! Find tableware, gifts, party favors, cutouts, party kits, decorating kits, dinner plates, plastic trays, napkins, confetti, bowls, balloons, snack trays, lights, centerpieces, borders, games and so much more! You'll have everything you need to throw the best party ever.
Your party guests will have a fabulous time - With such a great selection of party supplies, your holiday themed parties will be fun for everyone. Colorful, bright and perfect for every holiday that comes around, you'll be the perfect party host. You can throw a party for every month of the year with these party supplies, so if you're the party throwing expert, find everything you need for a super bash for every holiday of the year!
For kids parties or grown-up events, holiday themed parties are a wonderful way to celebrate any holiday. You'll love these festive supplies that complete your theme. Impress your guests and provide everything anyone needs to have a great time at parties that you plan!