Mardi Gras Prom - Prom Wishes
A Mardi Gras prom theme is fun and festive
Prom goers will think they've traveled to Bourbon Street when they get a glimpse of the Mardi Gras prom you can put together with all the decor and accessories from Prom Wishes.


Transport prom guests to a one-of-a-kind night in New Orleans! They'll love receiving Mardi Gras invitations, which set the tone for a fun-filled night. Once they arrive, they'll be surrounded by Mardi Gras decor like giant dramatic masks, Mardi Gras banners, romantic street lamps and tons of confetti in gold, green and glittering purple.... read more


This catalog is currently out of stock.


Please search through our categories for another catalog.


- or -

Shop for mardi gras prom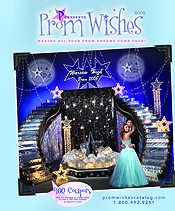 More About Mardi Gras Prom - Prom Wishes:
Other great Prom Wishes departments:
A Mardi Gras prom isn't complete without masks in every size, color and variety, including harlequin masks, metallic masks and feather masks. Guests will have a wonderful time trying to guess who's behind the colorful masquerades! They'll also love collecting Mardi Gras prom favors like beads, coins, photo frames, key tags, candles and so much more!
Make it a night they'll never forget with a Mardi Gras prom full of fun details that call to mind jazz, Bourbon Street and the unique vibe that only New Orleans can bring.