Printable Note Cards - PaperDirect
Printable note cards put your personal stamp on notes
Put a unique touch on printable note cards by personalizing gorgeous designs with a special message.


Note cards for any occasion - Tell someone thanks or that you're thinking of them. Or send printable note cards just because. Everyone loves receiving loving messages. When printed on note cards that you personalized yourself, your words are beautiful, too.... read more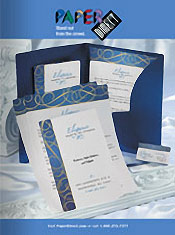 More About Printable Note Cards - PaperDirect:
Other great PaperDirect® departments:
Keep it short and sweet - When you don't have time to write a long letter, printable note cards are the perfect solution. Their smaller size makes it easy to send brief words of appreciation, encouragement and care.
A lovely selection - Plain unprinted note cards are simple and basic, while designed note cards feature your choice of classic designs, from blue skies and calla lilies to island scenes and bright stars. You'll find a note card for any occasion.
The various styles and designs of printable note cards from PaperDirect help you send your special words on beautifully detailed cards, from simple to simply elegant.