Prom Night Decorations - Prom Wishes
Prom night decorations make for a wonderful prom
The right prom night decorations will make guests feel like they've entered a magical world, so get the best from Prom Wishes and make it an unforgettable night.


You'll find prom night decorations in any theme. Everything you need to create a fabulous prom is right here, including balloons, confetti, banners, garlands, streamers and tableware.... read more


This catalog is currently out of stock.


Please search through our categories for another catalog.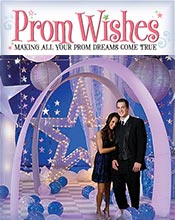 More About Prom Night Decorations - Prom Wishes:
Other great Prom Wishes departments:
But don't stop there! You can also find fountains, trees, lamp posts and other decor that will turn a gymnasium into another world.


It'll be a night of stars with prom night decorations featuring sparkly objects in everything from star centerpieces to star garlands. Light up the evening with small or large stars. Don't forget columns set to match Mardi Gras themes, city lights themes, fairy tale or Asian themes. You'll find all the decor and accessories to turn a prom into the most fun night of the year!
No matter your theme or location, prom night decorations can turn the ordinary into the extraordinary. Enjoy creating a unique experience that prom goers will never forget!