Catalogs.com Departments

News & Articles

Restaurant Menu Paper - PaperDirect
Restaurant menu paper lets you design unique menus
Invite friends, family or guests to your dining establishment, home or picnic grounds with these beautifully designed menu papers ready for you to personalize.


Casual barbeques, picnics and teas - Want your guests to know what delicious treats you have in store? Print them out on restaurant menu paper specific to your event. Choose from summer picnic, picnic guest, on the grill or hot dogs papers.... read more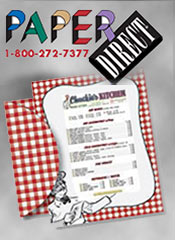 More About Restaurant Menu Paper - PaperDirect:
Other great PaperDirect® departments:
For high teas, print your menu and details on teacups papers. Your guests will eagerly look forward to what you have planned!


Specialty restaurant menu paper - No matter what you plan to serve your guests or customers, there's a theme perfect for your menu. Ristorante and pizza papers work for Italian and pizza restaurants, while grapevine papers are the perfect way to announce an exclusive wine tasting event.
Give your menu a professional look - Whether you run a small breakfast diner, cafe or highbrow eating establishment, restaurant menu paper in a style catered to your unique menu lets customers know what to expect. Personalize your menu and print it out on these professionally designed papers.
PaperDirect has the perfect restaurant menu paper just for you.