Catalogs.com Departments

News & Articles

Sports Party Supplies - Century Novelty
Sports party supplies make a great party for sports lovers
Score big! Sports party supplies make your next party a huge event, whether you want to score a touchdown or make a goal.


Sports party supplies for every sport - Select party supplies for just about any sport including baseball, football, hockey, basketball, bowling, golf, tennis, soccer, racing and volleyball. However you choose to score, there's a party theme just for you.... read more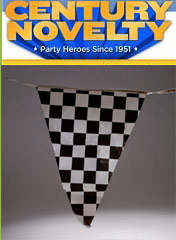 More About Sports Party Supplies - Century Novelty:
Make your decor sporty - Make sure your partygoers have something to cheer about with sports party supplies like pennants, centerpieces, snack bowls and cutouts in the shape of footballs, basketballs and baseballs.
Sporty party favors score a home run - Sport ball erasers, sports rings, rubber balls, key chains, inflatable bats and ball purses are perfect party favors for your guests. These sporty favors are sure to be a hit with kids!
Let them eat cake...on sporty plates - Serve snacks and desserts on plates decorated like footballs, soccer balls, baseballs and more. Even candies come in sports-themed wrappers.
Century Novelty will turn any party into a sporting event with sports party supplies for the true fan.