Sports Stationary - PaperDirect
Sports stationary is perfect for the sports fan
Score a hit with sports stationary that you can personalize for unique invitations to your next sports-theme party.


Make a hole-in-one - Or a goal, field goal or home run! With sports stationary representing just about any sport you can imagine, you can please a true fan no matter which game is his favorite.



Start your party off right - Even before you throw that party, your invitations set the tone.... read more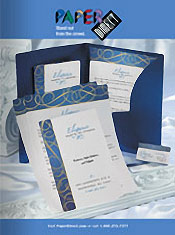 More About Sports Stationary - PaperDirect:
Sports stationary lets party guests know they're in for a treat. Colorful graphics around borders or serving as the background for your personal touch make these invites extra special.


For the true sports fan - Basketball, baseball, soccer, golf, fishing, bowling, volleyball, tennis, football and even martial arts are just some of the sports you can personalize invitations with. Party goers will love the unique touch you lend to each invite.
PaperDirect has sports stationary sure to please any sports lover, whether he plays with a basketball, tennis ball, football or more!