Catalogs.com Departments

News & Articles

Stationery and Accessories - Current
Stationery and accessories are great ways to leave notes
When sending messages via a computer just won't do, stationery and accessories can get the job done in an elegant and personal way that shows you care.


Using stationery and accessories to send everything from thank you notes to little personal memos shows that the fine art of penmanship isn't dead. You can write quick notes that are more meaningful than mass e-mails and will be much more appreciated! Current has a huge selection of quality stationery and accessories appropriate for any occasion, including personalized items like memo cubes, pencils, note cards, notepads and more.... read more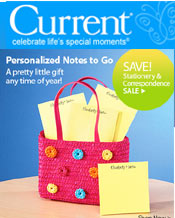 More About Stationery and Accessories - Current:
Display some elegance with initial note cards, swirls thank you notes, embossed note cards and envelopes in a variety of colors that match this unique collection of stationery. You'll find designer calling cards, note cards, notepads and more that are perfect for children and adults, as well as different styles. Whether your style is fun and exuberant or quietly classic, you'll find stationery and accessories here to express your personality with every note!
Fill all of your stationery needs in one place with a great and varied selection that is sure to have something for everyone!