Catalogs.com Departments

News & Articles

Sympathy Note Cards - CardsDirect Christmas
Sympathy note cards send kind wishes during difficult times
During times of loss, it can be difficult to find the right words. Let sympathy note cards help you express your deepest wishes to business associates, coworkers, employees or friends.


Thoughtful and elegant sympathy note cards will let someone know they're in your thoughts when it counts the most. Classic and beautiful floral designs or simple styles add the right amount of grace to your expressions of sorrow.... read more


This catalog is currently out of stock.


Please search through our categories for another catalog.


- or -

Shop for sympathy note cards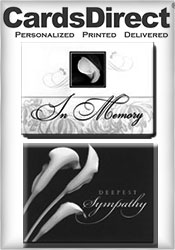 More About Sympathy Note Cards - CardsDirect Christmas:
Other great CardsDirect - Christmas Catalog departments:
Personalize your greetings with a unique verse to show how much you care.


Choose a design that expresses your sincere sympathy, whether it's for a client, colleague or loved one. They'll appreciate your kindness during a painful loss. If you don't know what to say, sympathy note cards can help, with expressions of "Our Thoughts are with You" to "With Deepest Sympathy." Sending sympathetic wishes lets someone know how much their loss means to others as well.
With a varied selection of sympathy note cards that convey consideration and thoughtfulness, CardsDirect has the perfect card for anytime.