Catalogs.com Departments

News & Articles

Theme Party Goods - Pinatas.com
Theme party goods make any party perfect
Do you want to throw a party with a great theme? Then get ready to find all the theme party goods you'll ever need for an unforgettable bash! From popular kids' themes to themes that will make adults happy, find all the party supplies and decorations you want at Pinatas.com, the party supply destination!


A huge selection of theme party goods - What's your theme? Whatever it is, you'll find the perfect supplies for your party, including popular themes like football, 50s party, 70s party, casino, college football, fiesta, luau, NFL party, Hollywood, sports, horses, western, tailgate, Cinco de Mayo, tiki island, surf's up, weekend barbeque, let's hula, Hawaiian tropic, soccer, X games, baseball and so much more!



Tons of party supplies - So what does a Hollywood party need for your special guests, or stars? Try metallic dinner plates, dessert plates, star attraction lunch napkins, beverage napkins, paper cups, Hollywood invitations and seals, Hollywood star plastic table cover, popcorn boxes, metallic film border roll and many more Hollywood-themed supplies and decorations! You'll be the perfect "star" hostess with such fabulous theme party goods.... read more


This catalog is currently out of stock.


Please search through our categories for another catalog.


- or -

Shop for theme party goods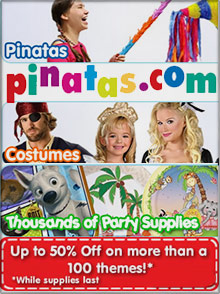 More About Theme Party Goods - Pinatas.com:
Other great Pinatas.com departments:
Themes for kids - Theme party goods include perfect supplies for the younger set, including horse theme items like a deluxe party set, wild horses party favor kit, wild horses treat bags and stickers. Don't forget the cowboys! Western party theme supplies include rodeo horse pinata, cow head party hat, mini cowboy hats and more. Just say "giddy-up" and watch your party guests have a ball!
With such a wonderful selection of party goods to complete any theme, you'll find whatever you need to ensure that you and your guests have a fantastic time, no matter what kind of party you plan. Fun and whimsical or strictly retro, these themes are great for anyone!