Catalogs.com Departments

News & Articles

Theme Party Tableware - ShindigZ
Theme party tableware adds to the party atmosphere
Make every party the best one ever with theme party tableware that adds even more fun to the festivities. ShindigZ has a huge selection of themes, no matter how you choose to celebrate.


With party packs and theme party tableware packaged in convenient, easy-to-use kits, you can get everything you need in once place -- right here! How are you going to party? Luau and Tiki Lounge party ensembles are great for a tropical vibe, while the Vegas Nights kit is a sure bet for a good time.... read more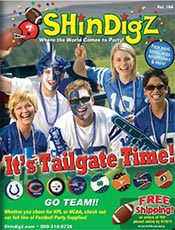 More About Theme Party Tableware - ShindigZ:
Other great ShindigZ by Stumps departments:
Each tableware kit contains everything to serve your special guests, so let them eat cake and have fun.


There are so many theme party tableware selections that will help make the ultimate celebration. Dance the night away and include Disco Fever or Greatest Hits ensembles to complete the decor. For winter occasions, kits include Let it Snow or Reindeer Attitude themes. Decide on a theme first and then shop or look here for fabulous ideas. You're sure to have a wonderful time with the festive and cheerful party tableware you'll find right here.
Theme party tableware only adds to the fun, whatever your party theme is, so get ready to have the best time ever, with good food and friends.