Valentine's Day Paper - PaperDirect
Valentine's Day paper you can personalize for a special touch
It'll be one romantic Valentine's Day when you personalize Valentine's Day paper for that special someone.


Create your own message - With a beautiful background on Valentine's Day paper, all you need to do is add the right words. Print Valentine's Day poetry or your own unique and loving words.



Choose roses, hearts and more - Roses, hearts, azaleas and cupids add affectionate touches to Valentine's Day paper.... read more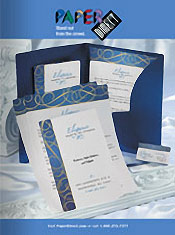 More About Valentine's Day Paper - PaperDirect:
Other great PaperDirect® departments:
With all of these heartwarming notions dancing around the border of each sheet, you have plenty of room to place tender words.


Make your valentine feel special - With a personalized note from you, your valentine will feel incredibly loved. A variety of designs make choosing paper that reflects your relationship easy!
PaperDirect helps you celebrate February 14th with Valentine's Day paper that you can use as a tender note, an invitation to a romantic dinner or as a one-of-a-kind card that will be cherished forever.