Women's Hair Products - Soft Surroundings
Women's hair products give you soft, luxurious hair
No matter your texture, you'll find women's hair products designed to work with your hair type, helping you achieve the gorgeous styles you've always wanted.


Not made for just one type of hair, women's hair products from Soft Surroundings are for everyone's hair. From wavy to kinky, Hair Rules brand has a hair care kit for all hair types.... read more



Shop for womens hair products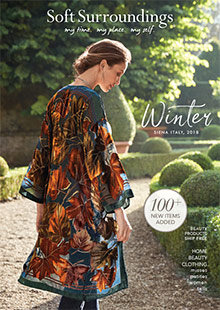 More About Women's Hair Products - Soft Surroundings:
Other great Soft Surroundings departments:
Other select brands include Ojon and Warren-Tricomi. It's not just about that final style; it's about products that nourish and protect your hair, allowing you to bring out its total beauty.


What does your hair need? More volume? Moisture? Whatever your hair's specific needs are, women's hair products can address them. Volumizing shampoos and sprays will give you the volume you want, while hydrating cremes and restorative treatments will replenish the driest hair strands. Pamper your tresses with quality products that are designed to emphasize the beauty of your hair, whether straight and fine or thick and curly.
With the perfect collection of women's hair products, every day can be a good hair day for you!