Catalogs.com Departments

News & Articles

Best Dog Bedding - Doctors Foster and Smith
Best dog bedding for your pampered pet
Your dog deserves a comfortable place to lay his head, so why not choose the best dog bedding for your faithful friend? Doctors Foster and Smith has a dog bed for any size pooch. With their great selection, you're sure to find the perfect bedding for your canine pal.


You love your pup and you want to show it. The best dog bedding you can buy will do exactly that.... read more


This catalog is currently out of stock.


Please search through our categories for another catalog.


- or -

Shop for best dog bedding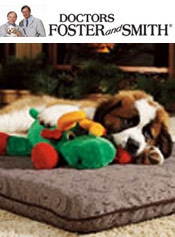 More About Best Dog Bedding - Doctors Foster and Smith:
Other great Doctors Foster and Smith departments:
It doesn't matter whether you have a tiny Yorkie or a big Doberman. You'll find dog beds in a huge variety that fit the needs of any pooch. Choose from classic dog beds, deluxe slumber nests, lofted dog beds, memory foam beds, luxury bolster beds, convertible and chaise lounge styles.


You'll find dog beds here to fit into your home's unique decor. The best dog bedding is soft and comfortable, whether you select a basic style or go for warming or cooling designs. Older dogs will love orthopedic beds and you'll even find pet pillows that will cradle your dog's head while she slumbers.
When you want to ensure your pet's comfort for all his faithful years of service and companionship, the best dog bedding will provide him with a soft spot to lay down every single night.