Chic Dog Carrier - In the Company of Dogs
A chic dog carrier is stylish and adorable
For toting around smaller canine companions, a chic dog carrier is a stylish way for people and their furry friends to travel. There are a variety of carriers perfect for car, bike or foot travel.


A wicker cruiser or bike basket is a wonderful way to fit in exercise while getting Fido or Fifi out into the fresh air. Little pups can rest while you bike around the park or to the store and back.... read more



Shop for chic dog carrier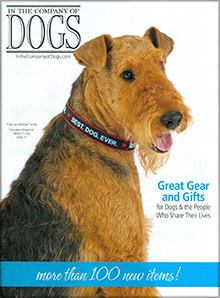 More About Chic Dog Carrier - In the Company of Dogs:
Other great In The Company of Dogs departments:
Plush interiors make a soft spot for dogs so they can ride in comfort. Just fasten this chic dog carrier to your bike's handlebars and you and your best friend are ready to set off in style!


Bitty bag padded carriers feature suede microfiber and plenty of padded comfort, including pockets, leash attachments and real European flair. Larger dogs can travel in a chic dog carrier like a sport wagon or bike trailer that allows you to jog or run with them in tow, perfect for letting them rest when they get tired.
In the Company of Dogs has the perfect chic dog carrier for you and your doggie friend, whether you use it for bike rides, jogs in the park or long afternoons spent outside together.