Cool Dog Leashes - In the Company of Dogs
Cool dog leashes are unique and fun
With the variety of cool dog leashes you can choose from, now you can have a leash that matches your pet's unique personality.


When you pull out the leash, your dog knows what's coming! With cool dog leashes, the both of you will get excited. These stylish leads are great for any dog. No tangle varieties work for one or more dogs, eliminating that tangling hassle when two pups cross each other.... read more



Shop for cool dog leashes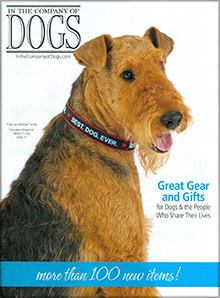 More About Cool Dog Leashes - In the Company of Dogs:
Other great In The Company of Dogs departments:
Leather leashes are sturdy and elegant choices, while glitzy collar and lead sets are just what you need for the pampered pooch.


Walker and heeler leashes make walks more comfortable for you and your dog by controlling distance, while you'll enjoy the comfort grip handles. For older pets, use a unique bottoms up leash harness, which makes it easier for them to get around. No matter which of these cool dog leashes you choose, you and your precious pup are sure to have even more fun on your daily walks together!
In the Company of Dogs has a great variety of cool dog leashes that you and your furry friend will love, whether your pet is cool and elegant or a glamorous diva!