Cute Doggie Clothes - In the Company of Dogs
Cute doggie clothes are perfect for the stylish pup
Your furry friend is already the cutest on the block. Dress her up in cute doggie clothes and the both of you will turn heads wherever you go!


Do you have a precious pup who knows how adorable he is? Cute doggie clothes are perfect for any occasion. Velvet warmups, signature alpaca sweaters, fleece warmups, down jackets, fleece jackets, vintage sweaters and winter parkas will keep your pet warm on wintertime walks, but also add some stylish flair.... read more



Shop for cute doggie clothes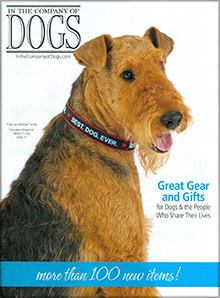 More About Cute Doggie Clothes - In the Company of Dogs:
Other great In The Company of Dogs departments:
For the holidays, choose from Santa suits, snowflake sweaters, Joy Joy Joy tees and an adorable plaid holiday dress for a princess of a pup.


Doggy life jackets are great for the dog who loves to go boating or fishing with you. Cooling vests are perfect for warm weather so that your dog doesn't overheat. With such a variety of cute doggie clothes for all seasons, your best friend will be stylish year-round. There are even eco-friendly designs such as the organic cotton Bark for Green tee!
For dog lovers who want their pets to look fashionable, In the Company of Dogs has cute doggie clothes that pups and their human friends will love.