Catalogs.com Departments

News & Articles

Doggie Waste Disposal - Doctors Foster and Smith
Doggie waste disposal keeps your environment clean and beautiful
You love your dog, but you hate cleaning up the waste she leaves day after day. With a doggie waste disposal system, you can make this unpleasant chore easier and hassle-free.


Dog lovers agree that if there's anything they don't love about living with their precious pups, it's the cleanup! You want to walk in your yard without worrying about stepping in a pile, so choose a doggie waste disposal product and put those worries behind you.... read more


This catalog is currently out of stock.


Please search through our categories for another catalog.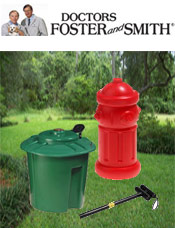 More About Doggie Waste Disposal - Doctors Foster and Smith:
Other great Doctors Foster and Smith departments:
Choose from waste disposal bags, scooper pans, mutt mitts, grabbers or spray-on stool destroyers. These are all easy ways to quickly clean your yard and leave it waste-free.


For pet lovers with two or more dogs, or really large breeds, a Doggie Dooley in-ground waste digester system is an ideal solution to the cleanup problem. It's simple to use and solves the headache of cleaning behind your beloved dogs. Doctors Foster and Smith provide a variety of doggie waste disposal systems for you to use, so you're sure to find the right cleanup method right here!
Keep your yard beautiful and germ-free. Make the task of cleaning up after your dogs easier with a doggie waste disposal product perfect for your needs.