Great Dog Toys - In the Company of Dogs
Great dog toys promote exercise, fun and bonding
You have the best dog in the world and you want to show it, so why not spoil your furry friend with a selection of great dog toys from In the Company of Dogs!


Not only do doggie toys promote bonding between a human and his canine pal, it also directs the dog's chewing to acceptable outlets and away from your shoes! These great dog toys help puppies make it through teething and even provide them with soft pals to cuddle with when they're sleeping.... read more



Shop for great dog toys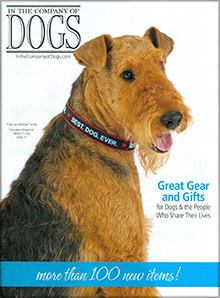 More About Great Dog Toys - In the Company of Dogs:
Other great In The Company of Dogs departments:
Some fabulous choices you'll find here include barnyard babies, furry flatties, snugglers, frog toys, duck toys, vintage dog toys, rope toys, bushy tail toys and much more!


When the holidays roll around, Santa wouldn't leave Fido out, so choose from great dog toys like happy holidays stockings, holiday flatties, personalized Santa gift buckets or a croaking frog singing toy! Toss them over and over for a game of fetch. You can have hours of enjoyable bonding while providing activity and fun for your best friend.
It's not enough to just have one, so choose a variety of great dog toys for your furry companion, for play, snuggling and amusement.