Catalogs.com Departments

News & Articles

Pet Dog Boots - DogGone Charming
Pet dog boots protect little paws from rain and snow
Any dog owner who has a pup who hates walking in wet grass or needs protection from the snow will love the idea of pet dog boots. Now Fido won't mind going outside when the weather forecast calls for rain or cold.


Waterproof, available in two sizes and fashion colors like blue or red, pet dog boots are perfect for those rainy or snowy mornings.... read more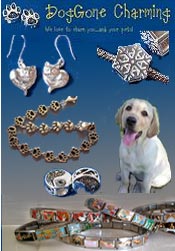 More About Pet Dog Boots - DogGone Charming:
Other great DogGone Charming departments:
You don't have to worry about Fifi tracking mud or slush back to your home. The non-skid bottoms on these adorable dog booties will keep your canine pal from sliding on sidewalks or floors.


Coordinate these cute pet dog boots with other dog apparel for complete outfits that will keep your precious pet warm and dry. Now rainy or snowy days won't keep you stuck indoors! You and your dog can go out for fresh air and exercise anytime. Pet dog boots will keep paws clean and dry. DogGone Charming carries dog booties in fashion colors perfect for boy or girl pups!
In any season or weather condition, boots for dogs are sure to protect little paws, while looking fashionably adorable at the same time!