Catalogs.com Departments

News & Articles

Plus Fashion Clothing - Serengeti
Plus fashion clothing offers many stylish options for women of size
For the stylish full figured woman, plus fashion clothing needs to be comfortable as well as flattering. Your casual wear should complement your figure and showcase your unique style. When you buy from Serengeti, that's exactly what you'll find!


You want attractive clothes that skim your curves, not hide them away. Plus fashion clothing includes stylish options such as jackets and coats for cool weather, and knit tops, flowing skirts, short sets, shorts, capris and more for warm weather.... read more



Shop for plus fashion clothing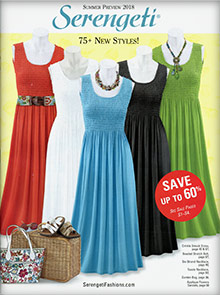 More About Plus Fashion Clothing - Serengeti:
You'll love these fashionable designs with flattering details perfect for the plus size woman. Soft or bold colors are available in a wide range that are sure to make you feel as radiant as you look!


Fashion details like plaid, patchwork, florals, embroidery, vibrant patterns and vertical stripes work with flattering cuts and styles that will make the most of your figure. Don't shy away from bold patterns. The plus fashion clothing you'll find here is designed with the curvy body in mind, so choose the perfect casual outfit that can take you on dates, picnics, vacation or laid-back Fridays with ease!
Look no further for plus fashion clothing that's designed to fit, flatter and make you look fantastic!