Catalogs.com Departments

News & Articles

Women's Plus Skirts - Serengeti
Women's plus skirts are perfect for full figured women
If being fashionable and stylish is important to you, then women's plus skirts in flattering fits and designs are what you're looking for. Casual occasions call for the great selection of plus size skirts you'll find at Serengeti.


No matter what your personal style, you're sure to find women's plus skirts that fit you. There's such a beautiful variety, from tiered and crinkle skirts to casual denim options, that you may have trouble deciding on a favorite.... read more



Shop for womens plus skirts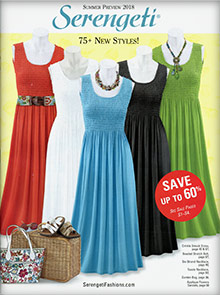 More About Women's Plus Skirts - Serengeti:
Why not try a selection that can carry you from work to weekends? Find skirts in rainbow colors, blues, black and white combos, florals, soft greens, autumn shades, multis and more!


Top any of these stylish women's plus skirts with a knit top, sleeveless tank, tee shirt or jacket and your look is nearly complete. The flowing and feminine styles you'll find here are made for full figured women who want classic and sophisticated attire to get them through their busy days. Patchwork, stripes, embroidery, chambray, velvet and panels are just some of the details that make these skirts unique and fashionable pieces perfect for your wardrobe!
If you're looking for women's plus skirts that are comfortable and casually stylish, you'll find what you need right here!