Catalogs.com Departments

News & Articles

Indoor Outdoor Doormat - Brookstone
An indoor outdoor doormat keeps your home clean and neat
Save your home's gorgeous floors with an indoor outdoor doormat that stops dirt and water in their tracks, before they can ruin your home's interior.


You value your home's impeccable decor, so why let dirt and water from shoes ruin it? A waterhog mat traps soil and moisture from tracking all over your house, preserving its beauty. An indoor outdoor doormat works in your home's interior and exterior, stopping dirt from even getting in the door.... read more


This catalog is currently out of stock.


Please search through our categories for another catalog.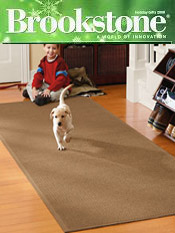 More About Indoor Outdoor Doormat - Brookstone:
Brookstone carries a full collection of waterhog mats, including indoor outdoor doormat and runner designs. Perfect for homes with high foot traffic from busy kids and pets, these water trap mats stop dirt and water from spreading. These mats work well in winter and in spring by stopping snow and muddy moisture from messing up hardwood floors and carpet.
Make your home's beauty last even longer with an indoor outdoor doormat that keeps your floors beautiful for years and years, extending the life and value of your precious investment.