Catalogs.com Departments

News & Articles

Home Comfort Products - ELDERLUXE
Home comfort products are great for relaxation
Turn your home into an oasis of serenity and relaxation with home comfort products from ELDERLUXE.


Enjoy all the comforts of home - If your home is your castle, you should feel like pampered royalty. Home comfort products like orthopedic pillows, ultimate neck pillows and mattress toppers will make sitting or lying in bed supremely enjoyable.... read more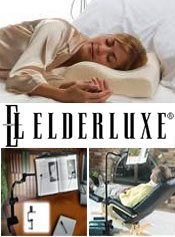 More About Home Comfort Products - ELDERLUXE:
Other great ELDERLUXE departments:
Plush materials turn your bedroom into a luxurious room to relax in.


Make reading easy and accessible - Ergonomic book holders and full spectrum reading lamps make it easy to read in comfort. Home comfort products that provide ample light and perfect positioning are specially designed to make you as comfortable as possible.
Luxurious comfort all around - You won't lose the supreme remote control with its easy-to-see large numbers and smart design perfect for those with arthritis. Or go to sleep inhaling the soothing scent of lavender with a warming aromatherapy set that will ensure sweet dreams all night long.
Home comfort products allow you to relax and unwind day and night.