Catalogs.com Departments

News & Articles

Impaired Vision Aids - ELDERLUXE
Impaired vision aids help your vision and independence
Instead of straining your eyes trying to see small print and numbers, try impaired vision aids that make it easy to tell time, use a remote or dial a phone number.


Bigger numbers are easier on your eyes - Trying to tell time on clocks with small displays can be a hassle, so why not use a large display alarm clock or atomic clock with easy-to-see numbers? Larger numbers are a help to anyone with impaired vision.... read more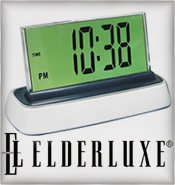 More About Impaired Vision Aids - ELDERLUXE:
Other great ELDERLUXE departments:
Let your voice be your guide - Impaired vision aids like voice activated telephone dialers are as simple to use as speaking. Instead of looking for your glasses the next time you need to dial a number, just talk into the dialer and the phone does the rest.
Enjoy your independence - You can still use all those household gadgets you need on a daily basis, but with increased ease. Impaired vision aids are the perfect solution for anyone whose sight isn't what it used to be, but who cherish their independence and freedom.
ELDERLUXE carries a full range of impaired vision aids, from phone gadgets to clocks to remote controls, all designed to make mature adults' lives easier to manage.