Catalogs.com Departments

News & Articles

Walking Cane Accessories - Youcan Toocan
Walking cane accessories make it easy to take your cane
Take your cane everywhere you go, but stow it, fold it or make using it easier and safer with a variety of walking cane accessories.


Perfect for wintry weather - On chilly days and nights, grip a soft and comfortable fleece cane cover, which is easy to attach to handles and stays securely. These machine washable covers fit curved or T-handles.... read more


This catalog is currently out of stock.


Please search through our categories for another catalog.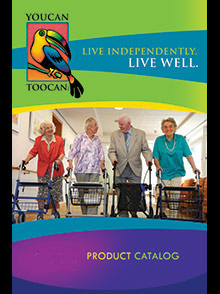 More About Walking Cane Accessories - Youcan Toocan:
Other great Youcan Toocan departments:
When navigating icy or slippery sidewalks, an ice attachment grips the ground securely, keeping you safe.


Compact storage - When you need to put your cane out of the way, walking cane accessories come in handy. A folding cane carrying case secures your folding cane on a belt, handbag or suitcase. A universal cane clip attaches your cane to a wheelchair or walker, keeping it stored nearby until you need it.
Feel secure with each step - Walking cane accessories allow you to walk without worry of falling, slipping or losing your cane. Instead, these secure and handy gadgets make it easier to get about no matter where you go.
Let Youcan Toocan add to your mobility and independence with a selection of walking cane accessories that are useful and practical.