Catalogs.com Departments

News & Articles

Communion Chalice – Monastery Greetings
Celebrate your spiritual ceremony with a Communion chalice
For centuries, the Communion chalice has been used for sacred ceremonies. This holy cup is a vessel that holds water, wine or any other religious drink. Often accompanied by a plate, the chalice is one of the most sacred vessels in Christian religions. The Communion chalice makes a great gift.


Simply beautiful - Made from handmade stoneware, each Communion Chalice & Plate has a distinctive personality of its own, giving this set a unique look and feel.... read more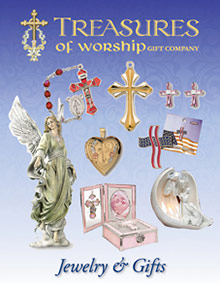 More About Communion Chalice – Monastery Greetings:
Other great Treasures of Worship departments:
Warm earth-tone glazes overlap light brown and blue highlights on this matching set. Not only are these sets beautiful, but they are also dishwasher-safe and lead-free.


A versatile vessel - Although the Communion chalice is typically used to receive Holy Communion, this cup can also be used for other occasions. Use the Communion chalice for various functions including wedding ceremonies or your child's First Communion. The chalice makes a great gift for all who want to celebrate the sanctity of Communion.
Gift from the Holy Land - If you are looking for something truly sacred, then give a Communion chalice that has been imported from the Holy Land. Handcrafted in Hebron, a city outside of Jerusalem, Fish & Loaves is gorgeous cup and plate set that has a pattern honoring Jesus' miraculous feeding of 5000 by the multiplication of fish and loaves at Tabgha.
Use the Communion chalice for your special events.