Catalogs.com Departments

News & Articles

Transpack Ski Bags - Snow Shack
Transpack ski bags transport your skis safely
Transpack ski bags come in so many styles and designs that any skier will find just the bag they need to travel with their skis conveniently and fashionably.


Need the perfect carrying case for your precious skis? Snow Shack has it! They have a great collection of Transpack ski bags that are made for men, women and children. Choose the bag length you need for your particular skis -- these ski bags come in different sizes just like your ski equipment.... read more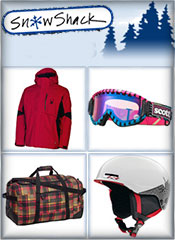 More About Transpack Ski Bags - Snow Shack:
Other great Snow Shack departments:
In addition, comfortable handles let you sling your bags over the shoulder for convenience or in your hand.


Features like durable material, padding, cinch straps at bags' ends, double zippers and zip pockets make these bags incredibly functional. Whatever way you travel, whether by plain, train or automobile, Transpack ski bags make it easy for you to get to your destination while keeping your skis safe and protected. Once you get to the slopes, carrying your skis is a breeze with these bags available in several fashion colors.
There's no need to be overloaded with carrying equipment when Transpack ski bags securely hold your valuable investment every time you go skiing.