Window Car Flags - Armstrong Flag Company
Window car flags display your patriotism on the road
Let your window car flags flap in the breeze to let other drivers know that you're an American patriot, military member or true fan of Texas. Armstrong Flag Company provides window mounted car flags that will get you noticed on the road!


Member of the United States Army, Navy, Air Force or Marines? It doesn't matter whether you're a veteran or active duty.... read more


This catalog is currently out of stock.


Please search through our categories for another catalog.


- or -

Shop for window car flags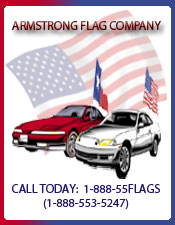 More About Window Car Flags - Armstrong Flag Company:
Other great Armstrong Flag Company departments:
Window car flags represent every branch of the armed services, so choose the one that represents you. As you drive down the road, other drivers will know that you've served your country well.


For Texans (and Texas transplants), window car flags are available in varieties just for you! The motto "Don't Tread on Me", the Texas state flag and Confederate flag are all fashioned of heavy duty polyester material, made to withstand the wind and weather while waving in the breeze.
Take your patriotism and state pride to another level with window car flags that are perfect for displaying your special interests wherever you ride!