Catalogs.com Departments

News & Articles

Christian Gift Ideas – Crossings®
Choose from a variety of great Christian gift ideas for your family
Books, mugs and calendars are wonderful Christian gift ideas for family and friends. Select from an assortment of spiritual and enlightening Christian gifts to give to your loved ones any time.


Test your knowledge about the Bible from books that feature fun word games and Bible trivia. This is one of many exciting Christian gift ideas that will get people talking, engaged and laughing for hours.... read more


This catalog is currently out of stock.


Please search through our categories for another catalog.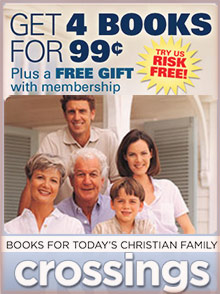 More About Christian Gift Ideas – Crossings®:
Other great Crossings departments:
Keep your life in order with Christian gift ideas such as daily planners and pocket planners. These planners not only help you manage your day-to-day tasks, but they also contain inspirational Christian verses to keep you focused.
Great Christian gift ideas also include Christian poems. Moms, dads and children will enjoy reading poetic verses filled with deep, spiritual meanings. Learn more about the sanctity of the Christian faith with poems that enlighten.
There are Christian gift ideas that help you celebrate the holidays. Browse through colorful cookbooks that are packed with delicious recipes. Prepare dishes for family and friends and make not only the holidays, but any day special.
You will never run out of wonderful Christian gift ideas to give to your loved ones. Show that you care by giving gifts that hold spiritual meaning and provide guidance for all who want to live a better Christian life.