Catalogs.com Departments

News & Articles

Kids Activity Books – Children's Book of the Month®
Kids activity books keep little ones busy all day
Little ones will stay busy as bees when reading kids activity books. These fun activity books keep your child creating, laughing and learning as they work through challenging puzzles, word searches, connect-the-dots and so much more.


Wouldn't you like to know what it was like in Ancient Egypt? Find out in kids activity books that show you what life was like as an Ancient Aztec or Ancient Roman.... read more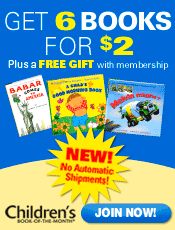 More About Kids Activity Books – Children's Book of the Month® :
Other great Children's Book of the Month departments:
You can dress up like a gladiator, make hot chocolate like the Aztecs or create a mosaic.


Children will have loads of fun with kids activity books that are filled with outdoor games to keep them active, activities that teach social skills and yummy recipes to cook.
Learning is fun with kids activity books that teach toddlers their numbers, colors, shapes and animals. Exploring new things is more fun than ever for kids when learning becomes child's play.
Many kids activity books include puzzles that help children with their hand-eye coordination, object recognition and other essential skills to stimulate their minds. Test your smarts with word searches, cross word puzzles and other mind-boggling games.
Kids activity books are a great way to make learning fun for children of all ages. Rainy days aren't the only time to spend working through fun activities.