Catalogs.com Departments

News & Articles

Learn How to Crochet – Crafter's Choice®
Helpful tips, suggestions, tricks and ideas to make crocheting fun
It's time to take out some yarn, a crochet hook and a pair of scissors. Jump on board and enjoy the ride as you learn how to crochet. Whether you are a beginner or pro, you'll come across valuable tips to improve your crocheting skills.


Did you know that crochet hooks are made from a variety of materials such as aluminum, wood and plastic? They also come in different sizes and colors.... read more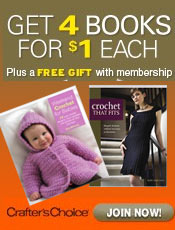 More About Learn How to Crochet – Crafter's Choice®:
Other great Crafter's Choice ® departments:
Learn more about these and other fun facts when you read books on ways to learn how to crochet.


Stay warm on a chilly day in a toasty sweater and scarf that you made. When you learn how to crochet, you not only embrace a fun hobby, but a useful skill as well.
There's no end to the number of different things that you can make once you learn how to crochet. Flowers, afghans, purses and tote bags are just a few things that you can crochet. Plus, your creations make great gifts.
Cables, loops, basket weave and shag piles are few textures that you can use to add visual appeal to your crochet projects. By following simple instructions and patterns, you can make something special.
Take up a hobby that is relaxing, fun and practical. Have fun with yarns, patterns and so much more when you learn how to crochet.