Catalogs.com Departments

News & Articles

Picture Books for Children – Crossings®
Stories come to life with exciting characters and imaginative pictures for your children
Reading is fundamental. Picture books for children are a great way to unlock your child's imagination allowing them to explore exotic lands, meet interesting people and learn about whatever subject they desire.


Do you remember reading picture books for children when you were a child? Well, you can enjoy those same classics with your child today.... read more


This catalog is currently out of stock.


Please search through our categories for another catalog.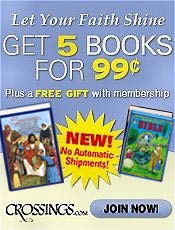 More About Picture Books for Children – Crossings®:
Other great Crossings departments:
There are picture books for children that introduce your little ones to their colors, numbers, ABCs and animals. What a great way to teach your child the basics and instill the love of reading at an early age.
Introduce the meaning of life to children with the help of picture books for children. Picture books are an ideal way to explain often difficult religious concepts into simpler terms that children can understand and appreciate.
Picture books for children are available in books sets comprised of two or more books. Kids will spend hours reading an assortment of picture books written just for them.
Picture books for children are a great way to teach your loved ones how to read. You can choose from a variety of subjects that will peak children's interest in reading and encourage them to want to learn.