Catalogs.com Departments

News & Articles

Children's Building Sets - Young Explorers
Children's building sets promote imagination and fun
Kids love to create and now you can channel that creative energy into children's building sets that allow them to make towers, homes, cars, helicopters and more.


A child will feel a great sense of pride and accomplishment when he builds something with his own hands. Give him the right tools with children's building sets that require focus and attention to detail.... read more



Shop for childrens building sets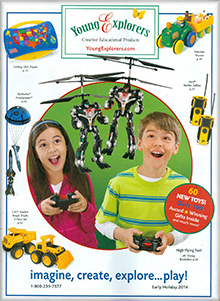 More About Children's Building Sets - Young Explorers:
Other great Young Explorers departments:
He can make a solar-powered helicopter, Ferris wheel and more with the Solarion Ultimate Builder Kit or make his own remote-controlled robot with the Illuma Bot kit. He'll learn follow-through and fine-tune motor skills with these educational building sets.


Give a future architect what she needs to create a fantastic 3D home! Watch this outstanding model come to life while learning about math and spatial concepts. Even the youngest kids can benefit from children's building sets such as beginner pattern block sets or an Oogly Googly motorized model. Let them build to their heart's content and delight in what their handiwork brings about!
Young Explorers is all about helping kids attain their full potential. Children's building sets are just another way for them to learn and grow in a constructive and fun fashion.