Catalogs.com Departments

News & Articles

Educational Brain Teasers - Young Explorers
Educational brain teasers teach and entertain children
Does your child love a challenge? If so, educational brain teasers are a fun and entertaining way to increase her knowledge and build confidence in her abilities.


The Big Book of Brain Games is sure to provide hours and hours of learning fun. This huge book of educational brain teasers will challenge kids on various subjects, making them smarter without them even realizing it! They'll work through logic and riddles while having an exciting time increasing their brain power.... read more



Shop for educational brain teasers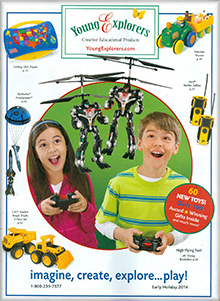 More About Educational Brain Teasers - Young Explorers:
Other great Young Explorers departments:
Full of color and packed to the brim with brain teasers, this book will become a favorite of kids and grownups alike.


For children learning about fractions, educational brain teasers like Fraction Pie Puzzles teaches about this math concept in a way they'll love. Colorful and unique, they can learn through various skill levels alone or with other players. The Rumis 3-D game combines architecture and geometric strategy to help players outwit one another in this challenging brain teaser.
Educational brain teasers from Young Explorers challenge kids to increase their knowledge, all while having fun!