Catalogs.com Departments

News & Articles

Electronic Learning System - Young Explorers
An electronic learning system is fun for kids
Children learn in different ways; the more they practice, the better they get. This includes learning math, time telling, penmanship and reading. An electronic learning system gives them the chance to practice these concepts at their own pace until they're comfortable with them.


Want to give your child a head start in school or does she need some at-home practice? An electronic learning system is a great solution for that extra practice she needs.... read more



Shop for electronic learning system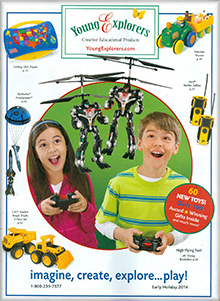 More About Electronic Learning System - Young Explorers:
Other great Young Explorers departments:
She can learn money concepts in a cash back money game or with a teaching cash register. These fun and colorful games will have her counting money in no time!


For the child who's learning to tell time, there are time teaching clocks and time management systems. Young Explorers offers an electronic learning system for geography, shape sorting, phonics and much more! With these helpful and creative aids, children can learn on their own or with family and friends and create a path toward success in school, no matter what their age!
Give kids the tools they need to succeed, including an electronic learning system that helps with a variety of concepts and subjects, while also making learning a fun activity!