Fun Dinosaur Games - Learning Resources
Fun dinosaur games are a great way for kids to learn
Kids and dinosaurs go hand in hand, so what's better for the little dino fan than fun dinosaur games that are as educational as they are entertaining.


Teach a young child to count with mini dino counters that come in a set of over 100! Not only does this help kids learn to count, it also helps them identify different kinds of dinosaurs. These brightly colored toys can also be used as party favors.... read more


This catalog is currently out of stock.


Please search through our categories for another catalog.


- or -

Shop for fun dinosaur games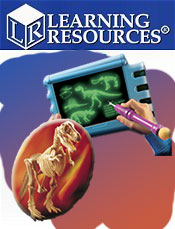 More About Fun Dinosaur Games - Learning Resources:
Other great Learning Resources departments:
Children can use them to play fun dinosaur games that are only hampered by their imaginations.


Kids can "unearth" dinosaur fossils and then build model T-rexes or Stegosauruses with Dino Digs kits that come with activity guides and facts about each dino. They'll learn about these fascinating animals while getting a hands-on experience that can improve fine motor skills. Other fun dinosaur games include a math tracks game and glowing light writer.
Fun dinosaur games from Learning Resources are a wonderful way for children to learn about interesting animals and have a great time doing it!