Catalogs.com Departments

News & Articles

Funky Girl Clothes - Psycho Baby
Funky girl clothes for the hippest girls
Sugar and spice and everything nice is fine, but what about adding some funk into the mix? Funky girl clothes are hip, fun and just what your little girl wants to wear.


Go beyond ordinary - Funky girl clothes let girls express their uniqueness in colorful outfits that are so not ordinary! Cupcakes and hearts are perfect for her sweet side, but skulls and crossbones add just a little edge to her look.... read more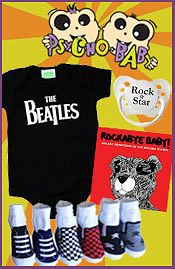 More About Funky Girl Clothes - Psycho Baby:
Other great Psycho Baby departments:
Let her be creative - If a girl wants to wear funky striped tights under a ballerina ruffled skirt, then let her. Top it with a pirate tank and she's good to go. Funky girl clothes are hip and stylish -- you never know how she'll throw a look together, but it always seems to work.
From top to bottom - The coolest tops and the coolest bottoms combine to make one-of-a-kind fashion looks that your little girl will love. If she's a princess one day, but a pirate the next, these clothes provide the sweet and the spicy!
Funky girl clothes from Psycho Baby are for girls who love to be hip, cool and a little bit funky.