Catalogs.com Departments

News & Articles

Learning Geography Games - Young Explorers
Learning geography games make this subject fun for kids
Help them explore the world and they'll never forget, especially when you teach them with learning geography games that are as entertaining as they are educational.


With a smart globe like the Geosafari Talking Globe and Talking Globe Junior, it's easy for kids to learn! These colorful globes feature the whole world in colorful, easy-to-read fashion perfect for youngsters.... read more



Shop for learning geography games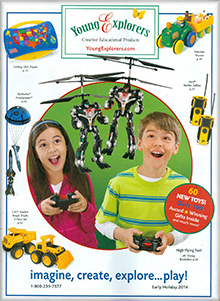 More About Learning Geography Games - Young Explorers:
Other great Young Explorers departments:
The learning geography games they can play include thousands of questions, guided world tours and customization options, allowing them to play alone or with the whole family.


Get everyone involved in learning geography games with The World Almanac for Kids. Travel around the world on this bright game board which covers topics such as health, science, animals and much more! Not only are they learning, they're having a great time while doing so, which will help them remember all their new-found facts. Plus, it's great fun for all family members.
Children and adults will love learning geography games from Young Explorers for the educational and entertainment value.